The new series of built-in taps for shower and bathtub applications Modular is composed of four different combinations where the temperature control is exclusively thermostatic while the distribution is controlled individually for each outlet / function.
Available in Chrome, Steel Looking, Matt Black, Matt White, Gold, Brushed Gold finishes.
The products of the Modular series are essentially composed of a recessed part containing all the functional fruits where to connect the plumbing system. The external parts that aesthetically complete the product are supplied separately at a later time and contain all the aesthetic finishing parts of the product.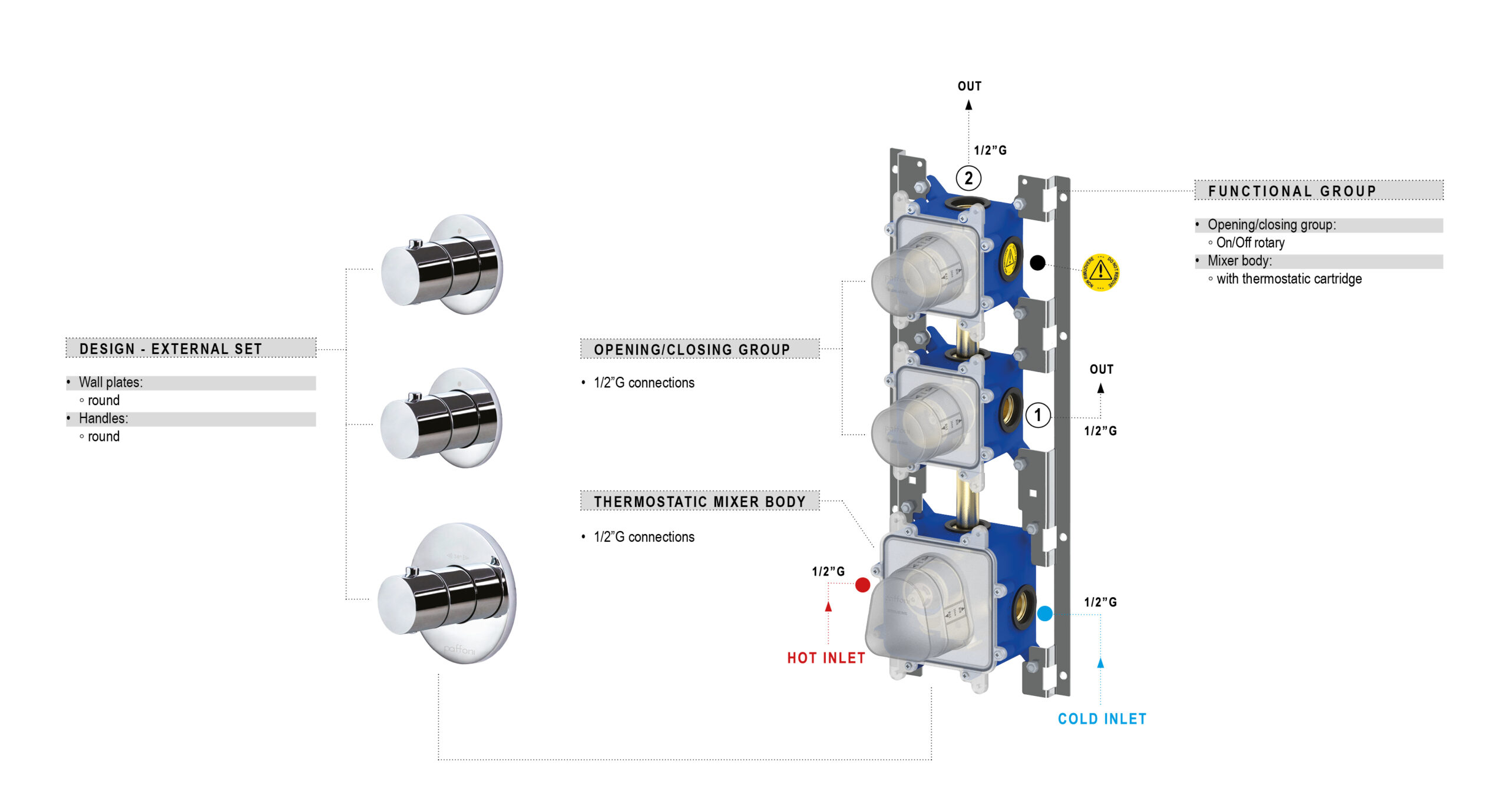 MDBOX018
Concealed set for Thermostatic shower/bath mixer (2 functions)
MDE018
External set for Thermostatic shower/bath mixer (2 functions)
MDBOX019
Concealed set for Thermostatic shower/bath mixer (3 functions)
MDE019
External set for Thermostatic shower/bath mixer (3 functions)
MDBOX000
Concealed set for Thermostatic shower/bath mixer (2 functions) with shower set connection
MDE000
External set for Thermostatic shower/bath mixer (2 functions) with shower set
MDBOX001
Concealed set for Thermostatic shower/bath mixer (2 functions) with shower set connection and bathtub spout connection
MDE001
External set for Thermostatic shower/bath mixer (2 functions) with shower set and bathtub pout
Modular Service
Modular Extensions set and Spare Parts
Set incasso per miscelatore Termostatico doccia /vasca Modular (2 funzioni)
Set esterno Miscelatori incasso doccia Compact
(1 funzione – 2 funzioni – 3 funzioni)
Set incasso per miscelatore Termostatico doccia /vasca Modular (3 funzioni)
Set esterno per miscelatore Termostatico doccia /vasca Modular (2 funzioni)
Set incasso per miscelatore Termostatico doccia /vasca Modular (2 funzioni) con attacco set doccia
Set esterno per miscelatore Termostatico doccia /vasca Modular (2 funzioni) con set doccia
Set incasso per miscelatore Termostatico doccia /vasca Modular (2 funzioni) con attacco set doccia e attacco bocca vasca
Set esterno per miscelatore Termostatico doccia /vasca Modular (2 funzioni) con set doccia e bocca vasca
Set Prolunghe e Ricambi Modulara